LOVE // Carly & Dan
THE DETAILS
Names: Carly & Dan
Wedding Date: 12 September 2015
Guest Numbers: 60
Wedding Location: Private Property, Sunshine Coast QLD
Photographer: Bek & Phil from Heart and Colour. They were the very first vendor I booked. I had seen another wedding Bek had shot and her style resonated with me instantly. I just wanted someone to disappear in the background and catch moments rather than create planned shots. We were blown away with the images and have so many favourites.
Tell Us Your Love Story
How did you meet?
It's the typical boring met-at-work story. To take an excerpt from our Celebrant Erin's awesomely hilarious speech: 'Carly & Dan's relationship is truly a story that reads like a romance novel: they met at work, dated and eventually moved in together. Well, I didn't say that it was a good romance novel.'
How did he put a ring on it?
After attending back-to-back Weddings on the two nights prior, we escaped to Byron for a little R&R and Vitamin D! We had a dinner reservation that night at one of our favorite restaurants, Italian at the Pacific, and I had planned to have a lazy hangover nap before getting ready, but Dan insisted we go for a stroll along Wategos beach. It was windy and cold but the tide was out and we started to head around the rocks to a little private area of the beach. Just as I got to the point of complaining about having to continue any further, he got down on one knee and asked me to marry him! It was simple, beautiful and the perfect surprise. (It also satisfied the geek in Dan as technically speaking he proposed on the most 'easterly point' of Australian mainland. He thought that would impress me but I really just wanted to wear the ring).
Where did you draw inspiration from?
Pinterest mostly, Instagram, but also nature in general. I think it's nice to just work with the space and the vendors and not try to re-create too much. There are so many external influences when you are planning a Wedding but I wanted to stay true to what really made my heart sing and suited us as a couple. It's not really about anyone else, and people are there for you (well, and maybe a chocolate fountain or champagne tower if you have those. I certainly would be!).
What was your wedding theme & style?
I didn't really want a theme for the day and prefer a more organic fusion of personal elements and understated styling. The intimate mood of the day was the most important to us and just keeping away from anything too bridal or run-of-the-mill. In the end it probably turned out to be slightly rustic and a little bit bohemian. I was inspired by raw materials, nature, imperfect spaces and rustic artisan elements.
What made the wedding personal to you?
A family friend played the harmonica live as my dad walked me down the aisle. It was a personal track he wrote and sang when he was touring with his Blues band, The Paramount Trio. It added more emotion to the ceremony and was one of our favourite parts of the day.
Also having the ceremony and reception at Dan's parent's property means we can visit and reminisce whenever we like which we are really grateful for.
What were you most nervous or excited about?
I was most nervous about it raining (and it did a little), but just excited in general to marry Dan and celebrate with loved ones. I also could not WAIT to wear my dress.
Did you DIY any elements?
Oh gosh, so many! My mother is a ceramicist so each Sunday my parents, sisters & myself would sit there & roll clay beads for the vintage chandelier that we hung from the bar area. It was such a great feeling to see it finished & hanging. Now it is installed in our home as a sweet reminder of our Wedding day.
I collected a lot of the styling elements myself & was conscious to edit what we had and not overdo it. I loved the idea of a bar with mismatched crystal glassware so I sourced vintage glasses leading up to the wedding & we set up a beautiful timber dresser to display them by the bar.
I illustrated both our Save the Dates & invitations & had them printed on ivory linen paper.
I prepared small test tubes of European drinking chocolate with mini marshmallows & chocolate flakes to suit the cool hinterland temperature in September.
I also sourced roses & foliage from a local farm & made my own bouquet the morning of the Wedding. We really were so lucky to have a lot of family help leading up to & on the day as well!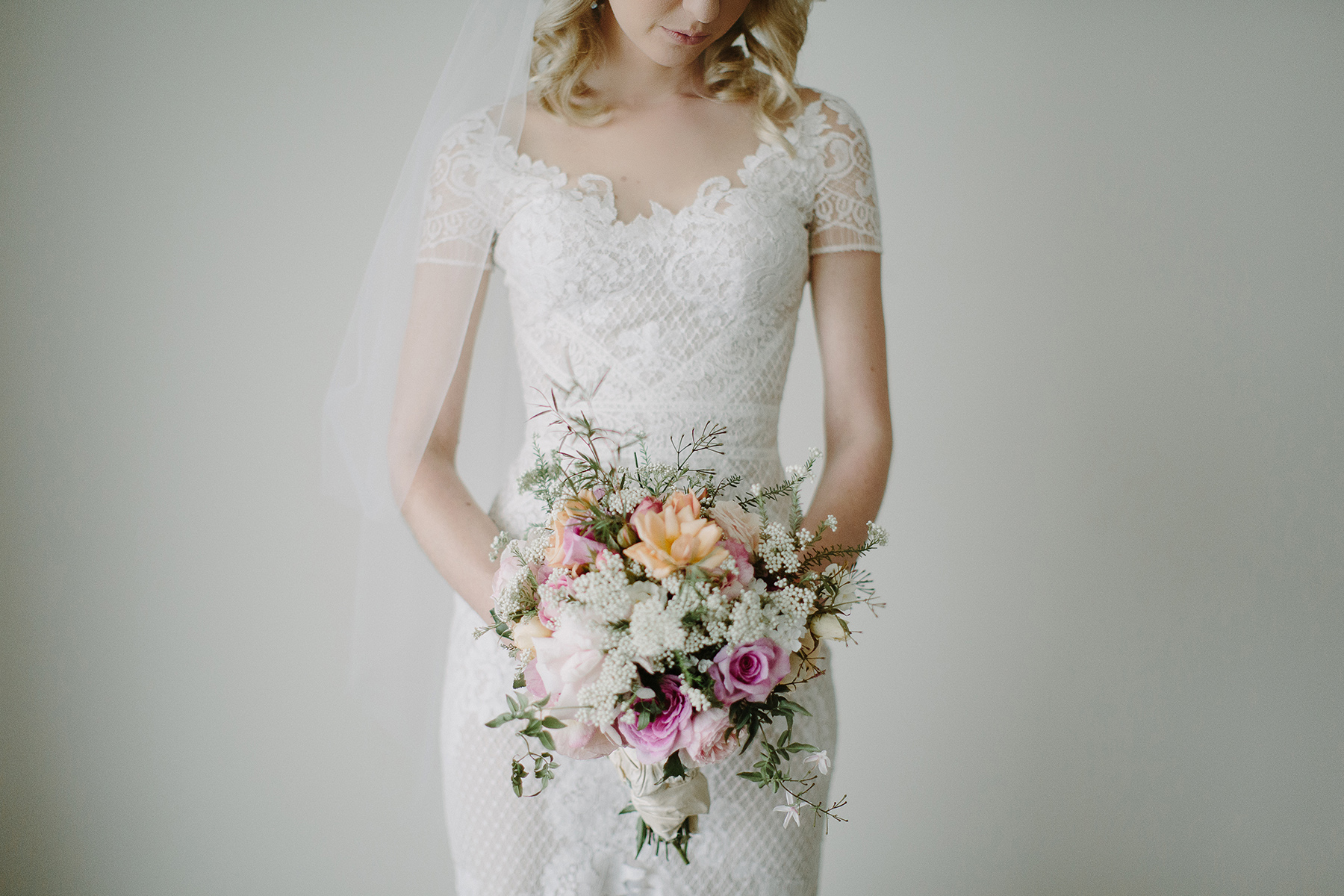 Now, the most important part - the Dress!
George Wu designed my dress. His gowns are beyond amazing and working with him was so much fun. I wanted something modern but also ethereal with an artistic element. He went above and beyond to execute my vision and I just continued to fall more in love with it each time I had a fitting. We both loved the edginess of the sleeve detail paired with the drama of the tulle skirt.
Where was the grooms suit from?
We didn't have groomsmen or bridesmaids so it was easy just to shop for one suit. Dan chose a slim line navy suit from MJ Bale, and matched that with a classic white shirt and tan leather shoes from Aquila.
What was your most memorable moment from your day?
I really enjoyed getting away for our portrait session. We had never planned to go for solo photos because we didn't want to be away from the party for too long, but now I am so grateful we got that time to ourselves. The engineering factory we had our photos taken at has been there for decades and has the most amazing façade and scale for industrial photos. The juxtaposition of old and new really appealed to us and since it turned out to be an overcast day I was glad that I had previously scouted the location so we weren't dependent on dappled light and pretty blue skies (because we didn't get them!).
I also have to mention our first dance to Paolo Nutini: Candy (even though we kind of just swayed). We both love his music. He is a true artist and the song was nothing short of perfect. It will forever bring happy memories flooding back!
What does marriage mean to you?
Sharing the adventure that is life, with the one you love by your side. Compromise, encouragement, and companionship. Facing all challenges together and recognising how lucky you are and what you have found in each other!
Something New? The dress! So fun to have something custom made for you.
Something Old? The beautiful handira wedding blanket we were married on.
Something Borrowed? Traditionally I think you are supposed to wear the something borrowed, right? I didn't have anything like that but a lot of the styling pieces were borrowed, my favourite being the timber dresser at the bar which is one of my mother in laws pieces she has had for decades.
Something Blue? My engagement ring – a custom made recycled diamond and turquoise engagement ring. I also made blue opal earrings to wear on the day.
Anything words of wisdom you can pass onto future brides & grooms?
here is actually a large possibility it will rain! Have a backup plan ready and be prepared to run with it should those clouds begin to loom…
Consider a stylist. As an artist I enjoy a myriad of creative roles and wanted to do a lot of it myself – floristry, calligraphy, sewing, styling – but on the day everything goes so quickly that you simply run out of time. If you align yourself with professional vendors that really 'get' your vision, they will deliver and be worth every penny. It really is a big job!