LOVE // Bec & James
The Details
Wedding Date: 10.06.16
Guest Numbers: 25
Wedding Location: Positano, Italy
Tell Us Your Love Story
How did you meet?
The honest story is; I was renting a flat with my sister in Mosman when we were 18, and I woke up and found that our mutual friend had jumped into our living room window and let James and few others into our place to crash after a night out because they couldn't get home to Dural at 5am, I remember I made them all pancakes with some cookies and cream ice cream when they woke up! They were all such a lovely bunch of boys and we have been great friends ever since.
James and I were best friends for years before we fell for each other, we knew each other completely so the relationship was very easy for us.
How did he put a ring on it?
I have to admit I did see it coming, James was veryyyy nervous, and it didn't go to his plan which was to propose in a lightshow in Vivid light festival in Sydney and go to dinner afterwards at Pier One! It actually ended up raining so we had to run to the restaurant and he nervously blabbed it out at the dinner table lol which was sweet in itself.
Where did you draw inspiration from?
I've always loved Italy, each town is uniquely beautiful and different.

What was your wedding theme & style?
Italian Elegance and beauty with a hint of 60's styling. I wanted each location to have a completely different feel to it so we all really got to experience what Positano really has to offer! James and I stayed at Le Sirenuse in the lead up and wedding night, It was so picturesque and stunning! And that is where I got ready and had some pictures taken after the ceremony.
The ceremony was at the Palazzo Murat which is a stunning Villa converted to hotel covered in traditional purple Bougainvillea. And the Reception was at the Villa Franca (Hotel) we were lucky enough to have the pool and dining area to ourselves, and I chose this venue because it was on the top of the Positano cliff, with a stunning view of Positano's beautiful landscape and ocean! As well as a 60's feel, it almost was like a James Bond movie! We also organised 2 Villas for our family and friends to stay in for a week, both in the Sorrento Hills, one had a castle look and feel to it, filled with Italian artwork, painted ceilings and marble finishes. The second was an Italian Winery, very peaceful and on top of a cliff.
What made the wedding personal to you?
Everything about it, the whole wedding was everything I had dreamt up.
What were you most nervous or excited about?
Everything falling into place, we winged a lot of it which made it more exciting, there were hiccups as expected but we just went with it and it turned out perfect.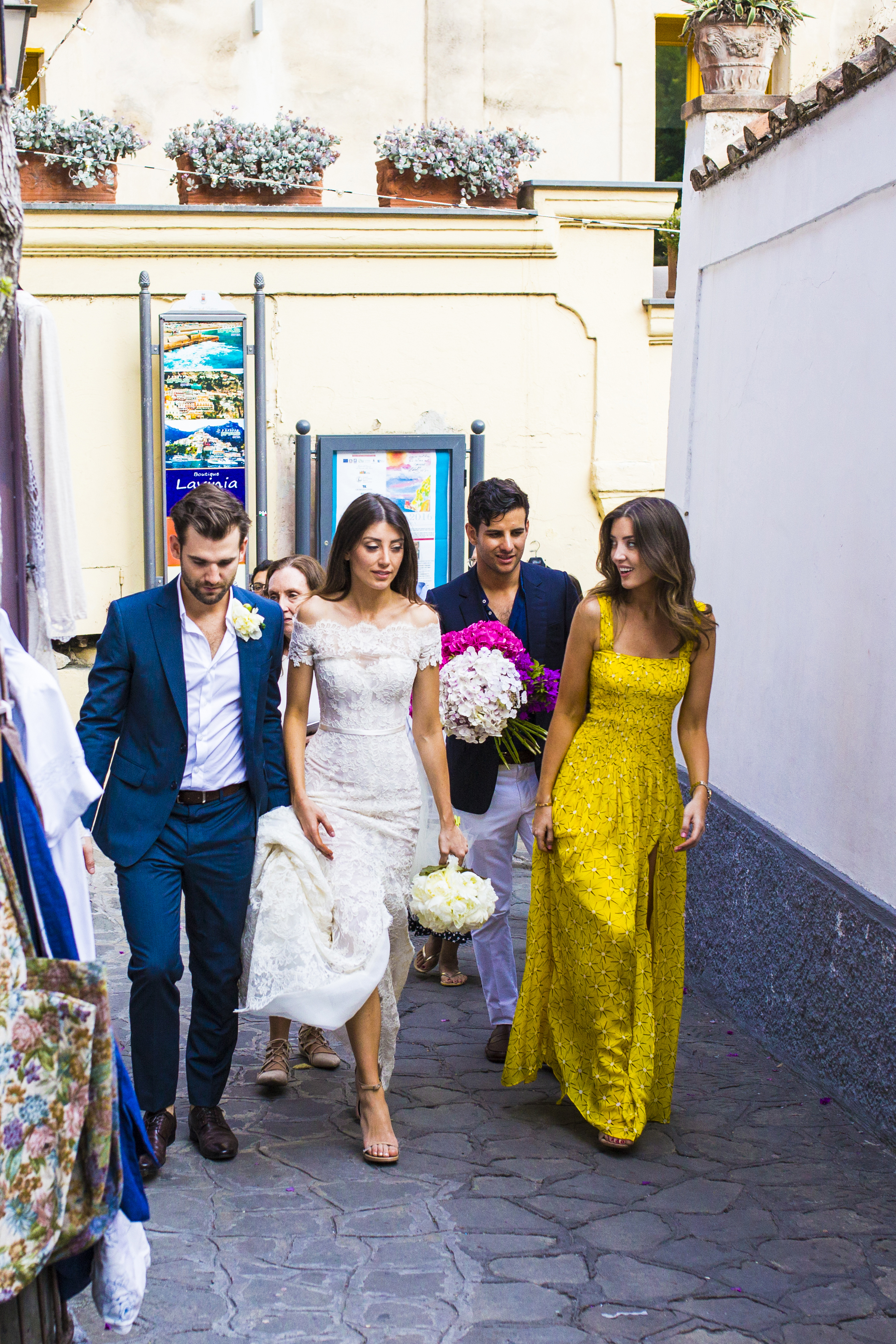 Now, the most important part - the Dress!
Tell us about your dress?
I wanted my dress to embody my style, which is to compliment my body shape, be tasteful and effortless. In my day to day style I have always been drawn to an Italian 60's-70's style so I definitely wanted my dress to feel the same!
Who was the designer? Steven Khalil
Where were your bridesmaid dresses from?
I didn't have bridesmaids as I really wanted to have an informal fun, dinner and party with friends feel to it. But my twin sister was my right hand the whole day so I guess she was an unofficial bridesmaid and she wore a yellow DVF dress.
Where were the groom and groomsmen suits from?
Aquila! Love their Italian detailing! And for all the grooms looking for suits, Its Very reasonably priced and already tailored!
What was your most memorable moment from your day?
There were so many moments that give me butterflies! Walking from my hotel to the Ceremony through the streets of Positano being serenaded by a Traditional Italian Mandolin band. Walking into the ceremony and seeing everyone and it was so beautiful covered in blooming pink Bougainvillea.
Mostly that Archie, our son was a part of our wedding and we have forever captured those moments in pictures, he was so cute, when he first saw me he was so overwhelmed with emotion he bursted into tears, and his reaction to me in a "pretty dress" was so sweet, he was trying to fix the "broken" split in my dress and after I told him the split was supposed to be there, he wanted to get into my dress like a tee-pee haha.
How much stress free and fun the day was and I was so happy I went with just having our closest friends and immediate family, so it was just like a fun informal party and so exciting because none of us had been to Positano before ☺
My first dance which was in the most breathtaking location on a rooftop pool (Hotel Villa Franca) the top of the Positano cliff with my alllll time favourite song "Under the Milkyway Tonight" performed in broken English!! Haha! And it was just so pretty with all of the town lit up and a warm night under the stars!
The sheer overwhelming beauty of the locations! Just blew us all away!
What does marriage mean to you?
A union of a forever growing and evolving relationship and forever evolving love
Anything words of wisdom you can pass onto future brides & grooms?
To focus on staying as relaxed as you can, its hard but it makes it so much more enjoyable.