BRIDE // OUR PICKS FROM NYC BRIDAL WEEK - SPRING 2017
New York Bridal Week has kicked off and the designers are presenting amazing Spring 2017 Collections! Here is a pick of our favourite designers and their wedding gowns.
M A R C H E S A
Designers Georgina Chapman and Keren Craig commented that the source of their inspiration was, "A regal, enchanted garden with flourishing rosebuds and blossoming florals emerging just as the morning sun rises". The collection features figure hugging bridal gowns embroidered with crystals and pearls, light-weight tulles and hand appliquéd 3D floral organza roses and petals.
Tulles in shades of nude and blush tones ran throughout the collection, "In the past, we've done some champagne, we've done some blush, but this time, the theme really goes throughout the whole collection," Craig says. "There's something that has a little bit of blush. It gives it a new feeling, but still feels quintessentially Marchesa."
M O N I Q U E L H U I L L I E R
Monique Lhuillier's Spring Collecting also followed the theme of floral and gardens featuring a myriad of slip dresses and organza wedding gowns in beautiful antique ivory, latte, and rose tones. Like the Mira Zwillinger collection these lingerie-inspired gowns featured 3D floral appliqué as well as hand painted florals. Tiered tulle skirts sat beside organza ball gowns and hems varied from full length, tea length and high low hems. Gowns were also finished with beautifully delicate capes.
"I wanted to capture the feeling of being madly in love and someone who feels pure bliss," Monique Lhuillier says.
J M E N D E L
We love the ready to wear fashion vibe of J. Mendel wedding gowns. The gowns are figure hugging and perfect for the modern bride. J. Mendel also experimented with colour this season choosing a pale blue hue. The collection featured long sleeves, high necklines and gathered chiffons and tulles, and the stand out gown for us featured an off the shoulder, high low hem bridal gown.
M I R A Z W I L L I N G E R
"After every long winter comes a spring, inspiring new life in its wake. First buds appear on bare branches and the magic of nature unfolds.", this was the inspiration for the Spring 2017 Collection by mother-daughter duo Mira and Lihi Zwillinger. Beautifully embroidered tulles and chiffon featuring beautiful floral designs. This collection also followed along with many others using 3D floral appliqué to bring movement and life to their beautiful gowns. The traditional ivory gown was showcased next to opaque, nude and blush toned bridal gowns giving a light and airy feel to the collection.
L E L A R O S E B R I D A L
There is one word we keep hearing with collection from this market, elegance, and the Lela Rose Bridal collection is no different. Beautiful A-line silhouettes and separates makes this collection not only elegant, but perfect for the modern bride. V-necklines and spaghetti strap A-line gowns in lace and embroidered organza were shown alongside collared capes and slim line pants in a beautiful cohesiveness.
A N G E L S A N C H E Z
Inspired by the 1950's the Angel Sanchez collection has a timeless feel to it.
High necklines and full skirts are made modern with the interesting use of acrylic, mirrors and patent leather detailing. Like J. Mendel, this collection featured hints of soft blue shades.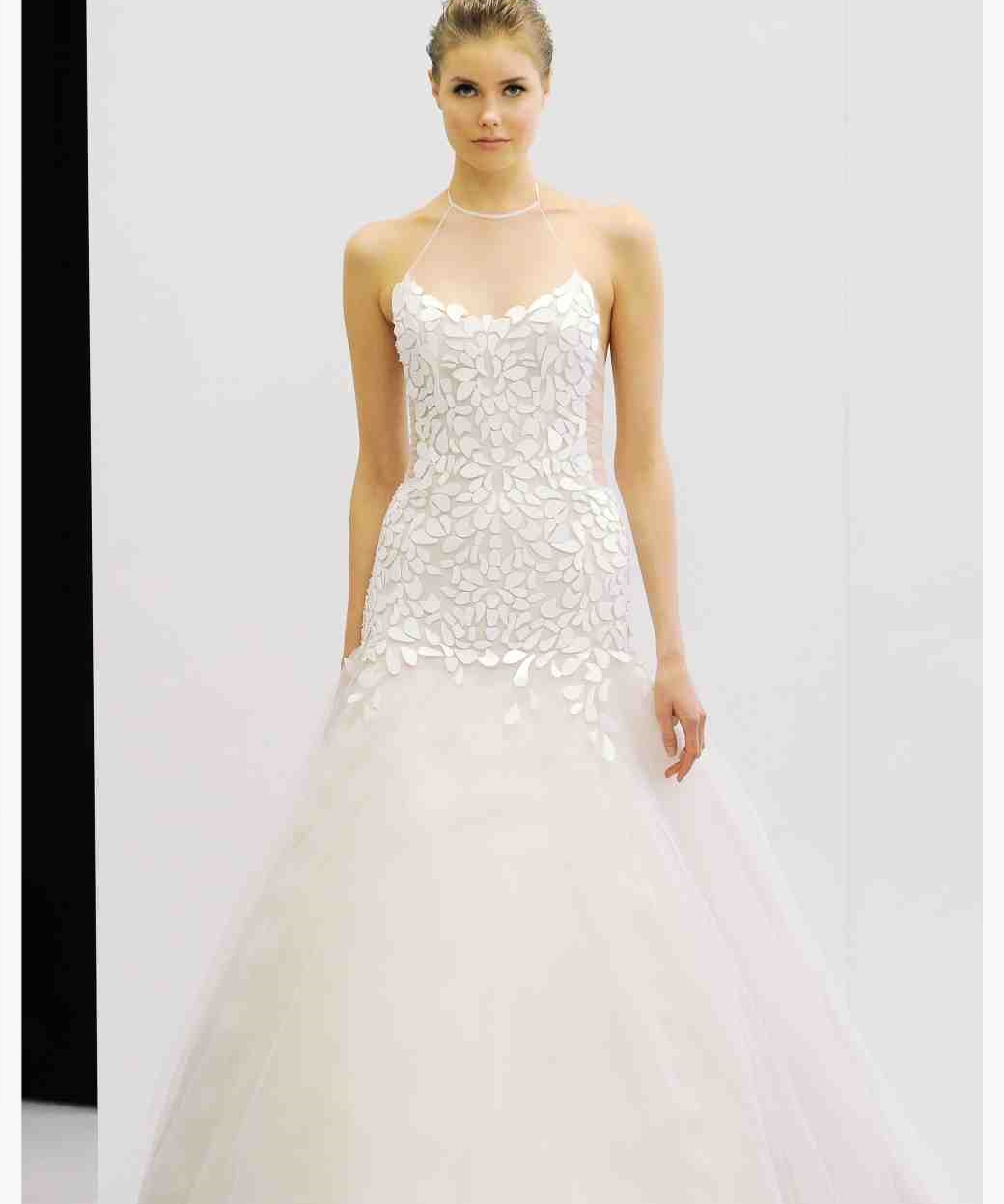 O S C A R D E L A R E N T A
When you want a classic and timeless design, look no further than Oscar de la Renta.
"I think that's one important thing to achieve, to get those big volumes but still have a lightness, so that they don't overwhelm," creative director Peter Copping said.
Beautiful mermaid style gowns in silk mikado were shown alongside ballgowns featured organza embroidery and necklines moved away from the classic sweetheart neckline, instead showcasing high necklines, straight across and deep v-necklines.